My friends Maf and Seb rode from John O'Groats to Lands End raising an amazing £3,703.27!!!
---
Health, Beauty & Fitness Fair – Team Hannah Fundraiser
This is being held on the 19th May between 9.30am and 4pm at Clock Barn Hall Hambledon, Surrey. For more info check out the link below:
http://www.facebook.com/pages/Health-Beauty-Fitness-Fair-Team-Hannah-Fundraiser/198948830191311?sk=info
Pete is talking too!!!!
---
The lovely Paul Duke is running the Brighton Marathon for me – WOW – on Sunday 15th April 2012.
If you would like to sponsor him please do! You will need to go to the Donate Now button on this site and leave a comment that it is for Paul. Show your support he has been training SO hard x
---
There is still time to sponsor Ricky on his skydive. Ricky has been cancelled once but is still going ahead- sorry to you  x
Ricky http://www.gofundme.com/bh720
---
My lovely cousin John is cycling in Perth, during March – if you are a fellow Auzzie show your support and sponsor him at:
---
Esther has overcome many obstacles – from event venue being cancelled to snow then back to event venue cancelled – but she has persisted and it is back on!!!!! Come and join her at the Zumbathon of the YEAR.
Saturday 14th April – 1pm – 4pm
http://www.facebook.com/events/119814401476649/
---
Stacey, Iain and Megan are all running the Reading Marathon for Team Hannah on 1st April. It is one year since Hannah had her operation!
I hope they spot each other in their Team Hannah t – shirts!!!!
Sponsor them on the links below:
Iain http://www.gofundme.com/b3fpw
Megan http://www.gofundme.com/h11fo.
Stacey http://www.gofundme.com/h14v4
---
Louise completed her Skydive on the 28th March! Yippee! Well done to her x Louise http://www.gofundme.com/a3ddc
---
[youtube http://www.youtube.com/watch?v=yIwVARsYCKY]
---
Please email us if you are doing any fundraising events along with the details to:
info@teamhannah.com
---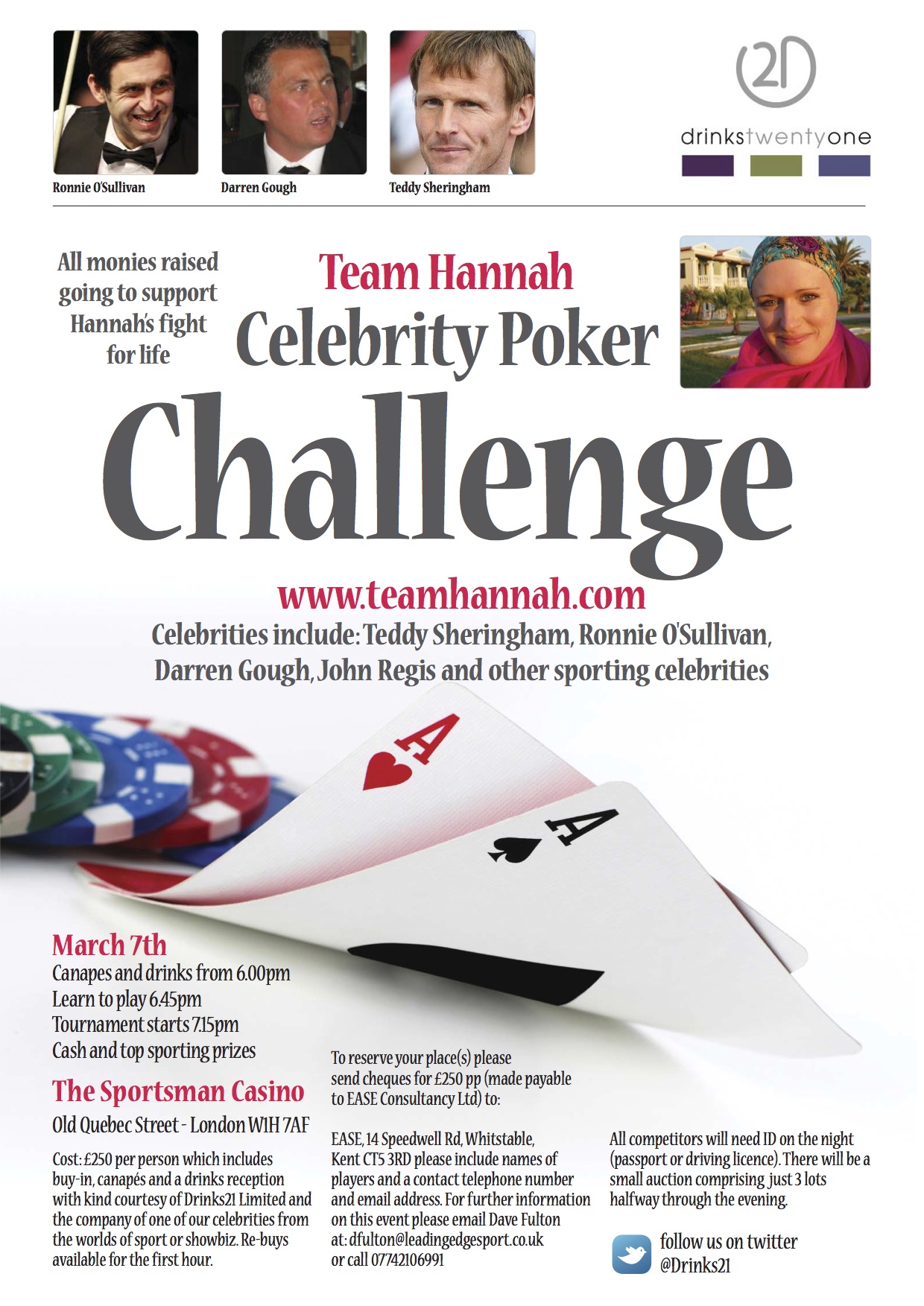 Wednesday 7th of March 2012, The Sportsman Casino, Old Quebec Street, London W1H 7AF
Join stars from the sporting world in a celebrity poker challenge.
Canapes and drinks from 6.00pm
Learn to play 6.45pm
Tournament starts 7.15pm
Cash and top sporting prizes
Cost: £250 per person which includes buy-in, canapés and a drinks reception with kind courtesy of Drinks21 Limited and the company of one of our celebrities from the worlds of sport or showbiz. Re-buys available for the first hour.
---
A big thank you to all the fundraising
events below that have now passed!
---
On the evening of dinner & dancing on 25th February 2012, my great friend Liz will be throwing a Ball at The Mandolay Hotel in Guildford – with tables selling out fast, quick book yours by e mail
lpa@gmx.com to contact her – fast!
---
Back for the sixth time since 2006 Soul at the Castle returns for 2012 at the prestigious Farnham Castle in Surrey. This year will benefit from an extra room of high quality soul, funk and disco from the 70s to the present day. hosted in three rooms by djs the vibe tribe plus special guests to be confirmed, this promises to be surreys biggest soul night to date. all profits made will be donated to local charities.tickets are £15 in advance only and will be on sale in january by contacting 101 collectors records in farnham on 01252 734409.FOR MORE INFORMATION ON THE SUCCESS OF THIS NIGHT PLEASE VISIT  www.soulatthecastle.co.uk
---
On Friday 24th Feb 2012 Pure Dance returns to Backline in Guildford for a very special event.DJs include;Jazzy M (Oh Zone / Kane FM) – Ministry of Sound Legend and The infamous Godfather of House! Rob Loco (Shaken Up) – Straight from Ibiza! – Steve Techaneer – Dan Brazier – Pete Cowens – Tristan CPlus the winner of London's Battle of the DJs… Tom Mabon!Come down to Backline in Guildford and help support this great cause and most importantly – SPREAD THE WORD!! ALL proceeds from this event will go to Team Hannah.Special Drink Promotions:
2 x Jager Bomb's £3.50 (with Red Bull – No cheap imitations!)
3 x VK's £5More info: www.puredanceevents.com
Facebook event page: http://www.facebook.com/events/299384280093219/See you on the 24th Feb 2012 at Backline Live!
---
The Bat & Ball Christmas Open at Hurtmore Golf Club
on Friday 30th December 2011, with lunch, raffle, auction, prize-giving and much fun at the Bat & Ball Free House, Boundstone, Farnham, Surrey.Golfers of all levels are welcome. Enter a team of 4 or come on your own and make new friends. Entrance fee is just £50 and includes coffee and a full English breakfast, 18 holes, a snifter to keep out the cold plus your first drink and lunch at the Bat & Ball.All profits to Team Hannah.email Roger Goscomb at goscrg@aol.com for an entrance form or further details.
---
Hello people, I shall be running in the Reading half Marathon on April 1st 2012. But this is no April Fools joke. I shall be running to raise money for my old school friend Hannah. Hannah has brain cancer and is raising funds to have the required surgery in America. This treatment is not available via the NHS and at this time it is thought that TEAM HANNAH will have to raise around £150,000 for Hannah to be treated. This is my way of trying to offer support to a truly lovely person that made my school days very enjoyable messing around in class. With fund raising well under way, I'm truly hoping that TEAM HANNAH reaches the finish line of the £150,000 faster than I reach the finish line in Reading! Please give generously and visit the website to gain knowledge and offer your support for a fantastic and life changing cause. teamhannah.comPlease give what you can. I'm hoping the money target I've set can be reached and exceeded with all your support. Iainwww.gofundme.com/b3fpw
---
The Bat and Ball Freehouse are producing a Calendar Girl style calendar with the Staff on 29th Oct 2011.On sale soon, grab them before they go! www.thebatandball.co.uk/main/gallery.php
---
Team Hannah Fun and Fitness Morning On the 11th of December 2011 we have the following classes for all to take place and all money goes to Hannah Bradley.9.30 – 10.20 Zumba
10.40- 11.30 Aerobics
11.50 – 12.40 Zumba £5.00 per personHale Insitution, Wings Road, Upper Hale, Farnham.
---
Personal Trainer Rob Dale from Get Fit Boot Camp is running a special half day boot camp for all ages
and abilities on Sunday 11th December in Burpham, Guildford (between 10am to 1.30pm) and £10
from every person will be donated to Hope for Hannah.To book Contact Rob Dale – rob@getfitbootcamp.co.uk – www.getfitbootcamp.co.uk
---
We are doing a 4 hour Zumbathon at Rodborough school sports hall.
On 3rd December 12-4pm to raise funds, you can come and party for any amount of time
from 30mins to the full four hours!Contact Petra 07967113389 for details
---
18th December – Casino & Canapes evening. A fun evening where you can try your hand at Blackjack & Roulette. There are some great prizes to be won on the evening including two return flight tickets on Monarch! Then dance the night away! Times: 7.30 – midnight Dress to Impress!Tickets are only £30.00 each in advance from The Bookham Grange Hotel 01372 452742
The Bookham Grange Hotel, Little Bookham Common, Bookham, Surrey KT23 3HS
---
I will be selling my photographic prints and cards at our Porta Romana Christmas Market on Friday 25th November.All profits in aid of Team Hannah! By Katie Hiscott
A Team Hannah trivia and auction night is being held on Thursday 1st December 7.30pm at Honey, South Melbourne
---
Louise and John's jump for Hannah www.gofundme.com/a3ddcThats right…On February 15th 2012, we will be flying high at near 13,000 ft…before diving out into the sky
---
96.4 The Eagle are kindly running a Hope for Hannah campaign starting on 14th November and
ending on 20th November, asking each reader to donate £1. They have 147,000 listeners so we
could reach it in a week!www.964eagle.co.uk
---
Team Ireland are holding a Help to Heal Hannah Spa Day on the 19th & 20th November for only
€100 at ESPA at The Europe. They have 70 treatments booked already!They will also be selling Dirty Dolly bracelets on the day!A big thank you to the Staff and management who are working hard for me www.theeurope.com/espa.html
---
Team Ireland is also holding a night at The Crypt, Killarney, on Friday 18th of November,
The Crypt have organised a fundraiser event for the charity 'Team Hannah'. €5 entry will go directly to the charity
First 100 GUESTS will get a FREE Corona. Excellent drink promos
The Crypt opens from 11 pm till 2.30 am.
---
Andy Woodfine is growing a moustache for the month of November, and he looks very silly if he
doesn't shave for a day! His fiancé is in for a treat!
---
Thomas Taylor "The Harry Potter illustrator" has kindly donated a very special copy of The Philosopher's Stone with an extra illustration inside the book! What a great Christmas present for all ages!
Ends Mon 14th November
---
We thank Hurtmore Golf Club for allowing a Team Hannah Golf Day to take place on 20th November for 40 golfers! Including the star of the, show my Daddy!www.hurtmore-golf.co.uk
---
My friends Al and Matthew are running 10K in the Old Deer Park, Richmond on the 20th November
Sponsor them at:www.gofundme.com/9ky0g
---
On 27th November from 3pm till late, Mark Horder is throwing on entertainment, prize giving and
street magician. If you dare, get your name tattooed on Mark Horder's back for £25! At the Edan Bar
in Petersfield. www.facebook.com/event.php?eid=270424822998712
---
On 30th November from 9am – 6pm, 3 hairdressers will be giving up their days off to raise money
for Team Hannah by giving cuts or blow drys for donations.Call to book on 01483 429445www.enzorosario.co.uk
---
Liz Smith is holding a drink and nibble party at her beautiful house for me on 3rd December, thank
you Liz xx
---
Do you like to Zumba? Join in the Zumbathon with 150 others! It is on 7th January 2012 sign up at:shorttfitness.wordpress.com/about-usThank you Esther
---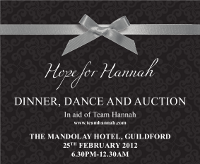 On the evening of dinner & dancing on 25th February 2012, my great friend Liz will be throwing a Ball at The Mandolay Hotel in Guildford – with tables selling out fast, quick book yours by e mail lpa@gmx.com to contact her – fast!
---
Starting on 21st July 2012, my mad friends are doing the infamous John O'Groats to Lands End bike
ride over 2 weeks. More info to come but to sponsor them go to:www.2theend.co.uk
From late November, Blythswood Hotel & Spa Glasgow are donating £1 of every Spa treatment to our fund throughout December!www.townhousecompany.com/blythswoodsquare/spa
---
Fashion Show – The Castle Inn, Hickstead – 8th Dec 2011
We will donate £6 from every ticket, all raffle money and 10% of clothes sale takings on the night.
---
Dirty Dolly are making special bracelets for us, all profits go to me! As soon as we get pictures we will
pop them up.www.dirtydollyjewellery.co.uk
---
Sue is having an event on 14th January 2012, at The Star Hotel, Great Yarmouth. There is going to be an auction, raffle, handbag sale, and loads of other fundraising going on.For anyone wanting to stay the night at the hotel, they are doing a special room rate of just £50 per room per night for bed and breakfast, (the normal rate is £75). You can book direct with the hotel, just mention you are there for Hannah's fund raising evening when booking: www.thestarhotelgreatyarmouth.co.uk. There are a lot of members of Weight Loss Guru attending, and so making it a special social evening for everyone, while raising lots of money for Hannah. If anyone wants to email Sue directly regarding this evening, please do so at suehedges@aol.com
---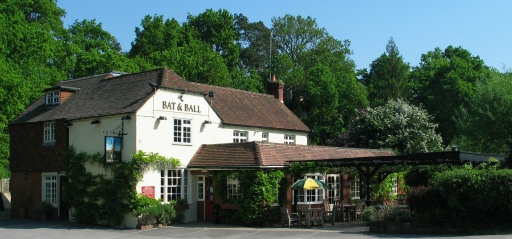 The Bat and Ball Freehouse are producing a Calendar Girl style calendar with the Staff on 29th Oct 2011. On sale soon, grab them before they go!http://www.thebatandball.co.uk/main/gallery.ph
---
On 10th November 2011 Barnham Broom Hotel & Spa are holding their Christmas Shopping night, with a raffle and product give away, and some males being waxed!http://www.barnham-broom.co.uk/
---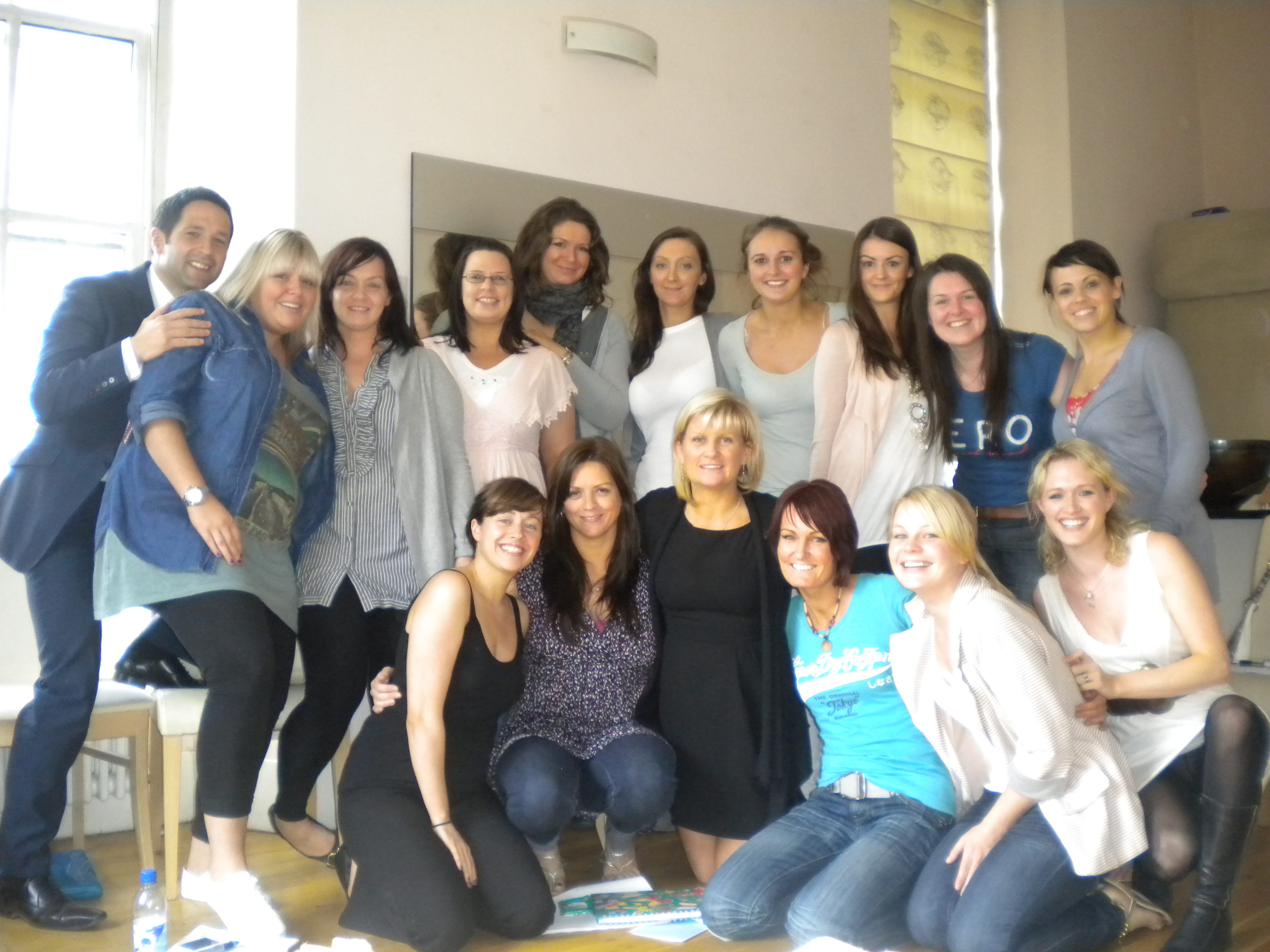 From late November, Blythswood Hotel & Spa Glasgow are donating £1 of every Spa treatment to our fund throughout December!
---
Fashion Show – The Castle Inn, Hickstead – 8thDec 2011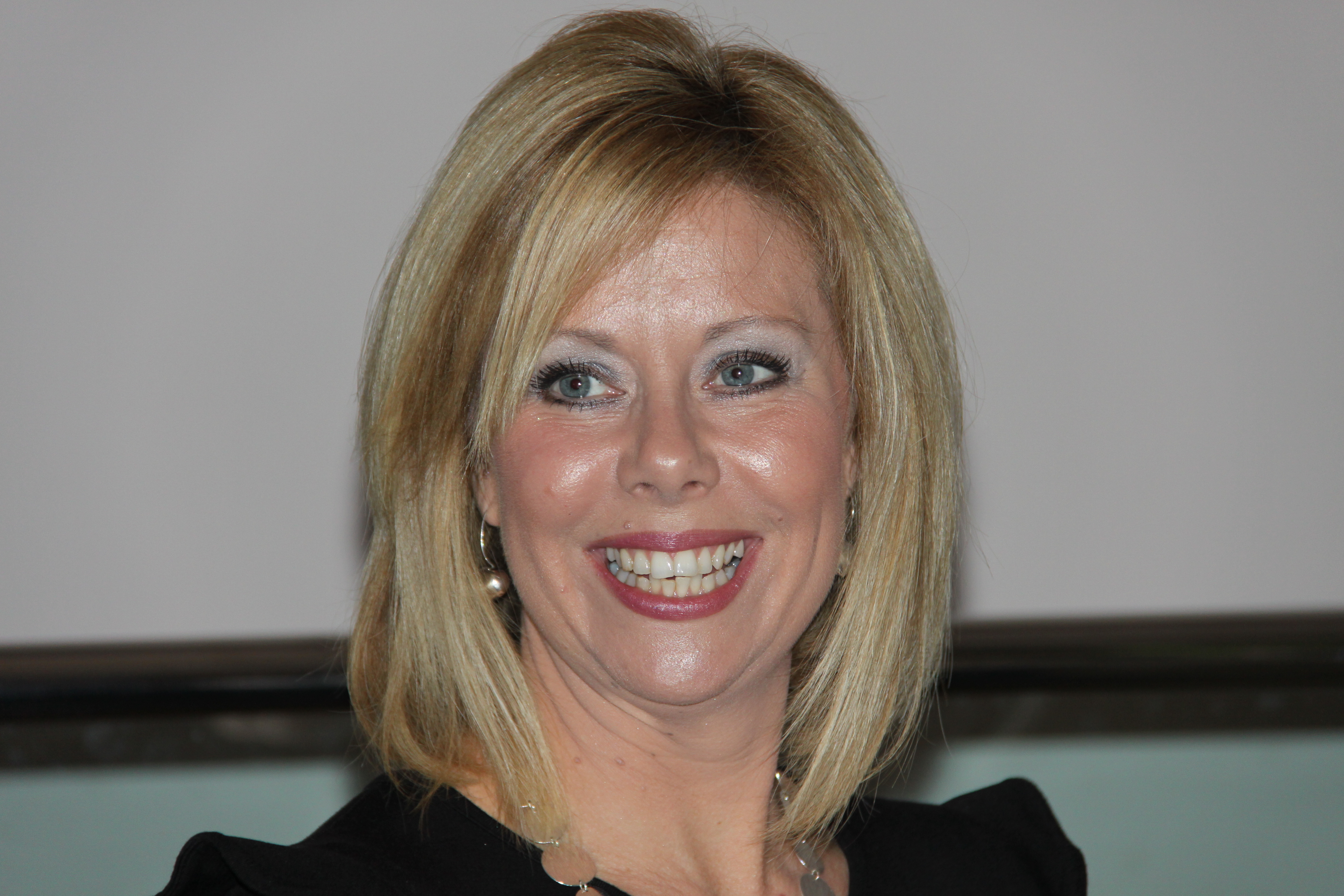 We will donate £6 from every ticket, all raffle money and 10% of clothes sale takings on the night.email at misscaptain@hotmail.co.uk
---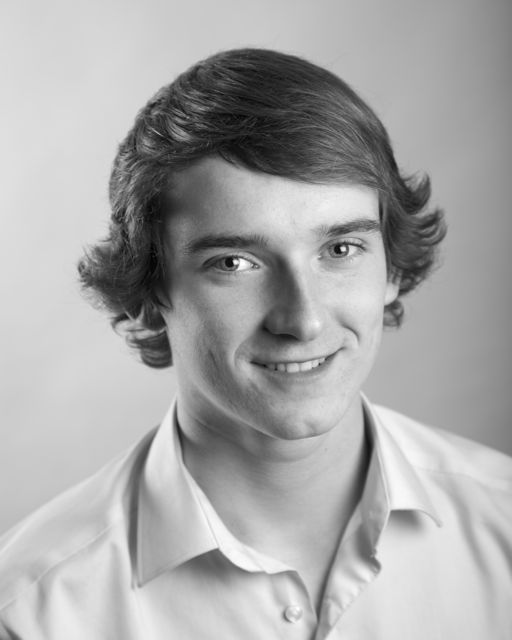 There  is a wonderful photographer called Greg that  I used to babysit for him when he was a young boy. He has very kindly decided to donate a 100% of all his sales to The Team Hannah fund. Check out his web site below.http://www.gregphoto.co.uk
---