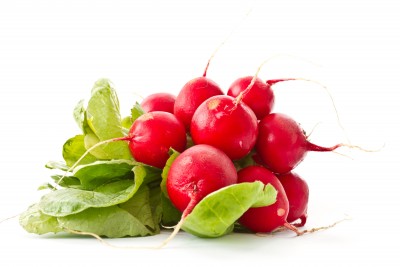 I was at the market the other day and ran across a gorgeous bunch of radishes. So bright red and lovely, with just a little bit of spice on the inside. Sounds like some people we know, huh?
The great thing about the radish is not only it's crunch, but also how healthy it is for you.
The radish is packed full of vitamin C, which helps strengthen the immune system and detoxify our bodies. The antioxidants in radishes can also help protect us from free radicals that may cause cancer.
The radish is a low glycemic index food, which means it helps regulate your blood sugar levels. This helps keep your metabolism at an even keel and will help you lose weight.
Radishes contain potassium, which helps with muscle cramps, brain function, blood pressure, anxiety, stress, metabolism, a healthy heart and kidney functions.
Radishes contain folic acid, which is necessary for the healthy development of our cells, a healthy brain and protection from cell damage that may lead to future cancers.
Here's a recipe for radishes that will give you a spicy crunch.
Spicy Radish Salad
Serves 8
3 tbsp linseed oil
1 heaped tsp Wholegrain mustard
juice 2 limes
1 red chilli , deseeded and finely chopped
handful mint leaves, shredded
To make the dressing, heat the oil in a pan, then throw in the mustard seeds and cook until they start to pop. Tip the seeds into a bowl and allow to cool. Add the rest of the dressing ingredients to the bowl and whisk everything together.
Add the tomatoes, onions, cucumber and radish to the dressing, stir to coat, then allow to stand at room temperature for 10 mins before serving.